Cow Caught!
Yvonne, the recluse cow has been captured. Actually she just decided to go home. She has been on the loose since May 24, 2011 when she jumped her electrified fence enclosure.
She has avoided capture from all types of groups and law enforcement agencies. An animal psychic was called in and communicated telepathically with Yvonne. Folks have speculated that she would eventually get lonely. Sure enough, she did!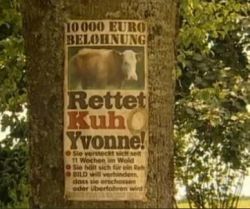 Apparently she jumped the same fence that she jumped to escape. As a fugitive bovine she hid out in the Black Forests of
Bavaria
befriending deer, elk and other wildlife who helped her.
She now is a member of a local animal sanctuary and has earned her freedom. She will not be used as steaks.
Click here for the link to the original NPR story
.
Click here for the story of her capture
.